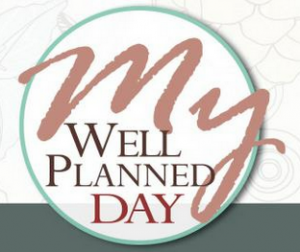 When I first started homeschooling, I tried using several different planners to help me plan our day.  With in a couple of weeks, I always stopped using them, either because they didn't fit our needs or I got behind trying to write everything down that I wanted to keep track up.
At one time, my husband even created a weekly excel spreadsheet that I could right lesson plans in and I could print lessons for the day or even for the whole week on it.  I used it the longest for a couple of years.  However, it still did not have everything I wanted to keep track of on it.
As the years have gone by, I have turned more and more to the computer and online world to make up different plans, spreadsheets and calendars to help me keep track of our busy life with four children.  I have yet to find anything online to keep track of everything, until now.
When I went to the 2:1 Conference back in April, I had the pleasure of meeting Jenny from Home Educating Family.  We got to talking about the Well Planned Day Planners that Home Educating Family offered.  I had seen them before, but never bought one because it was paper and would have required me to write everything in.  Knowing my history with this, I knew it wasn't the planner for me.  I asked her if Home Education Family had plans for making there planner online.  She said yes!  I was so excited and couldn't wait to try it out when it became available.  Jenny contacted me about a month ago and asked if I would love to give it a try and I just couldn't pass up this offer!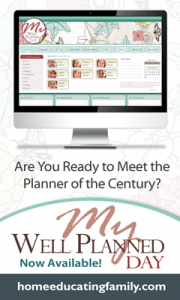 The My Well Planned Day software is amazing to me!  One of the things I love most about it, is that it combines School plus Household activities and events.  I can use the software to make lesson plans and assignments plus make a menu and grocery list!  The best of both worlds that I wanted together!  You can add the textbooks on here that you are using and keep track of the Literature that you are reading.  What has really gotten me excited is that I will soon be able to sync my Google calendar that my husband and I use, to the calendar on this software!
I really feel like the My Well Planned Day software is going to help me out so much.  I can already see areas that it has helped me in.  I would like for you to have the same chance to see if this awesome software will help you as much as it has me.
Home Educating Family is offering the readers of My Home In The Smokies  $15 off the MWPD software retail price of $65. The code is case sensitive, no spaces, and expires on October 1. Your personal code is: 31wpdblog12.
Also, thanks to Home Educating Family, you have a chance to win a 1 year Subscription of the My Well Planned Day Software!!  Just use the rafflecopter below to enter the drawing.  This giveaway will end on September 5th, 2012.
Due to international sweepstakes laws, this offer is only for U.S. entries.
This giveaway is not connected to any social media sites and none of the social media entries are mandatory.