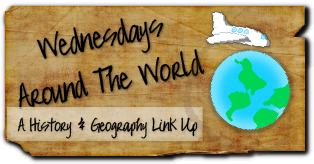 Welcome to another week of Wednesday's Around The World.  This week the lesson I am highlighting is about the Ancient Native Americans. It is lesson 48 in the Mystery of History: Volume 1 book.  While I have been enjoying studying about people in ancient times and they are calling this lesson the Ancient Native Americans, I am truly excited that we have shifted to North America for a lesson.  I am so amazed that at the same time Hezekiah was ruling Judah, there were actually people living in what we now know as the United States.
The Ancient Native Americans have been labeled and put into 4 different groups.  The first group are known as the Paleo Indians.  They are the earliest known group.  Not too much is known about this group of Indians.  It looks like they moved around a lot, following the herds of animals for food and their skins.  They think they also had light weight tools because they did travel so much.
The second group is the Archaic Indians.   They seemed to be settled a little more than the first group, but staying in one place for a while.  They also dried some of their meat and grew grain for food.  They also had tools that they used for carving.
The next group is known as the Adena Indians.   This Indian tribe actually farmed their land.  They also made pottery to store the food they made.  The Adena's are also known for their burial mounds that they built.
The last group is known as the Hopewell Indians.  They took the Adena's idea of the burial mound and really went over the top with it.  Their mounds weren't just the typical round mounds, they actually made it a work of art.  They would shape their burial mounds into different shapes.  Some are shaped into animals and are as long as 1600 feet!  That is truly amazing!  The Hopewell Indians were farmers who grew corn.  They also grew tobacco and made pipes out of the shapes of animals.
Some of these mounds are still standing today.  There is one in Ohio that is called the Great Serpent Mound and there is also one in Wisconsin that is in the shape of a turtle.  What is so wonderful about these mounds?  They have withstood the weather for for than 2000 years.
My kids enjoyed the activity we did for this lesson.  They got to play with model magic clay.  The suggestion from the book was to make an animal pipe using a straw and the clay.  However, the kids and I decided that they would make different animal shapes like they made the burial mounds out of.  My kids chose to make a bear, turtle and snake!
While these were just simple small shapes, can you imagine making a burial mound 1600 feet long?  That would take a lot of digging and dirt moving!
We had several to link up last week and I thought I would share them with you today.
Ticia at Adventures in Mommydom had a lesson on The Call of Abraham.  They went outside and built an alter like God had told Abraham to do.
Deborah at The Paper Maid shares about the listening guides that you can find for Mystery of History: Volume 3 at the yahoo group.  Her boys will read their lesson and fill the pages out.  The lessons will sometimes include maps.  I did not know about this and look forward to checking in on this for my oldest daughter.
Lindsay from Bytes of Memory is talking about the Shang Dynasty and the Silk Secret.  Did you know that the Chinese people kept how silk was made a secret for over 3000 year?  She also has her son doing a neat little activity with yarn!
Be sure to stop by and visit these ladies.  They did a wonderful job sharing about their lessons.
Now for this weeks Wednesday's Around the World link-up.  We would love to see what you learned this week!  Just follow the link-up below!
****disclaimer~ This link-up is not officially affiliated with Bright Ideas Press but is my own project. I am a customer and fan.  This post also contains affiliate links.

Share and Enjoy