Since we moved to Colorado, I have had a hard time adjusting to the higher altitude, with my baking. While I have been able to tweak most of my recipes, to begin with, the one recipe I have had such a hard time with is my dad's Moist Pound Cake.  The problems would stem from rising and overflowing, to collapsing and being very dense.  No matter what I tried, I just could not get it to rise to a normal level and stay that way. That is, until today.
When I made the cake on Sunday for practice, for my daughter's birthday coming up in February, it was a disaster. It overflowed, all onto the bottom of the oven and then collapsed to almost nothing in the bottom of the pan.  I put a plea on Facebook and had a couple of people to send me websites that give help on higher altitude baking.  My husband and I started reading and going through what we have tired and what we haven't tried on this cake.  We finally decided on what changes we would make when I tried baking this cake again.
As you can tell by the picture, the change we made this time, was perfect!  I was so excited!  Below is the original recipe.  It is the one that my dad and grandma baked, all the time.  I am going to make the changes next to the ingredients that we changed.  They will be highlighted with an * and be in bold.
Moist Pound Cake
2 sticks butter, softened
2 cups sugar
6 eggs (room temperature) *I added an extra egg, so the total is now 7
2 cups all-purpose flour (sifted 4 times, you have to sift it. This is what makes the cake rise.) *I added an extra 1/2 cup of sifted flour
1 TBSP vanilla extract
Preheat over to 300 degrees(*I upped the temperature to 350). Grease and flour a bundt pan. Cream butter and sugar until smooth. Add 1 egg, at a time, mixing well after each addition. Add flour, beating until creamy. Add vanilla and mix well. Spoon into greased/floured bundt pan. Bake at 300 (350) degrees for 1 hour (50 minutes), or until a toothpick inserted comes out clean.
 So the changes that I made were adding an extra egg, adding another 1/2 cup of flour, baking it at a higher temp at 350 and only baking it for 50 minutes, instead of an hour.  It is very simple changes that took a lot of trial and error to figure out.
I was so excited about the cake baking perfectly, that I didn't let the cake sit long enough to cool.  When I tried turning it out on to a plate, the top of the cake stuck to the pan!  So a little advice about the cake, let it sit long enough to cool.  Don't be inpatient like I was!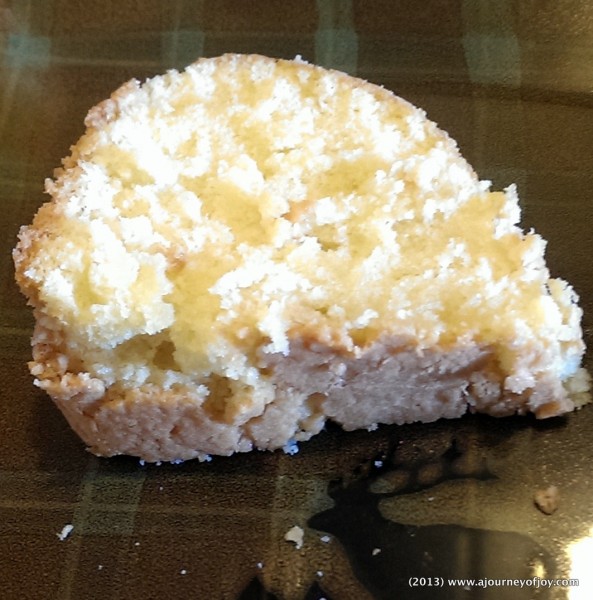 This cake really is an easy cake to make.  It takes no time at all to mix up.  You can even change the flavoring extracts for different flavors.  I have used Lemon, Almond, and Rum extracts in place of the Vanilla.  You can even mix up your favorite frosting and pour it over the top.
Now that I have finally figured out how to bake this properly, I plan on making these often and give them away, just like my dad did.  Nothing better than giving away something that you love making, or in this case, baking!
What is your favorite cake? Have you ever had a recipe to give you a hard time when cooking for baking?
P.S. One of these days, I will remember to get our good camera out, instead of using my phone camera.