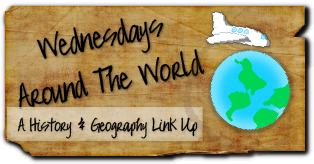 We had a wonderful Christmas break and I was so excited to start school back on January 2nd.  I was excited that we would begin our history and geography so that I could do the Wednesdays Around the World.   We did begin school on January 2, except by evening time, my husband and youngest son had gotten sick.  Eventually, one by one, our whole family would be sick with me being the last one to get sick.  Hit hit me like a freight train on Monday night.  I have spent most of the day, Tuesday, in bed.  Since we have been sick and unable to do our schooling, I thought I would go over why I started Wednesdays Around the World and what you need to do to link up with us.
Wednesdays Around the World: A History and Geography Link-Up, came from my love of the history curriculum that I am using.   I started using Mystery of History in the fall of 2011 and immediately fell in love it it.  History has always been a favorite subject of mine, but I loved how it was written and put together by Linda Lacour Hobar.  I then started using the Illuminations program from Bright Ideas Press, who also publishes the Mystery of History.  They also have some great Geography curriculum that they publish as well.  The more my kids and I did the lessons with the projects and activities, the more I wanted to share with everyone else what we were learning.  That got me to thinking about doing a history link-up for those who love and use any of the Bright Ideas Press curriculum that they publish.  I contacted a couple of people I know from there and told them about my idea.  They loved it!   While they love my idea and support me on this, they do not have anything to do with the link-up.  I am doing this on my own with their blessings!
I started this link-up the week of Thanksgiving and then continued it until the week before Christmas.  We took a few weeks of for the Christmas season and I am ready to get back to sharing what we are learning in Mystery of History, Volume 1.
Who can link-up to Wednesdays Around the World?  Anyone who is using the history, geography or WonderMaps curriculum that is published by Bright Ideas Press.  This includes Mystery of History (all volumes), All American History, WonderMaps, The Ultimate Geography and Timeline Guide, Hands-On Geography, Cantering the Country and Galloping the Globe.
If you have any questions, please feel free to e-mail me.  I want this to be a fun learning experience for everyone!
If you have started school and have a lesson, activity or project that you want to link up, I would love to see it as I am sure others do, as well!  Grab the button (although it is not mandatory) and just follow the instructions on the link-up below!
**disclaimer~ This link-up is not officially affiliated with Bright Ideas Press but is my own project. I am a customer and fan.  This post also contains affiliate links.
Share and Enjoy