Five years ago today, June 22nd, my family lost a very special person.  My dad.  He was a wonderful man of God.  He did his best to raise his family in a loving Christian home.  He wasn't a perfect man, but he did do his best to live for God daily.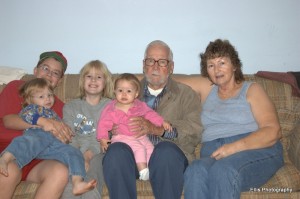 There isn't a day that goes by that I don't think about him.  Especially around the holidays and birthdays.  He was always the first one to call me early in the morning.  He was always there for all 4 of us kids.  If we ever needed anything, all we had to do was call him.  There are still some things that I will ask myself, "what would daddy do in this situation."
Cancer is an evil disease.  It took my dad way too soon in my opinion.  However, I know God took him home when we wanted him.  My dad had done his job on this earth and it was time to go on to his heavenly home.  I am thankful for all the memories that I have of my dad.  However, the best part is knowing that he is in Heaven with God and I will be there with him one day singing and rejoicing and praising God right along with him.
Share and Enjoy